Want to invest ethically? Questions to ask your financial adviser
Written by Mary Campbell
1 May 2018
Have you ever wondered what companies your investment and superannuation (super) or KiwiSaver retirement savings are supporting?
9 in 10 Australians expect their superannuation or other investments to be invested responsibly and ethically, according to the 2017 research by the Responsible Investment Association Australasia.
However, many people are not aware of exactly where their investments or retirement savings are invested. Your money might currently be invested in tobacco, child labour, fossil fuels, weapons manufacturing and logging companies. Instead, your money could be invested in companies that support education, healthcare, recycling and renewable energy.
Ethical investments deliver strong financial performance
Ethical investments continue to deliver great financial returns*.  According to the latest RIAA Benchmark Report, responsible and ethical investment Australian share funds outperformed the ASX300 and mainstream funds over three, five and 10 years.​
Ethical Investment share funds average performance to 31 December 2016*: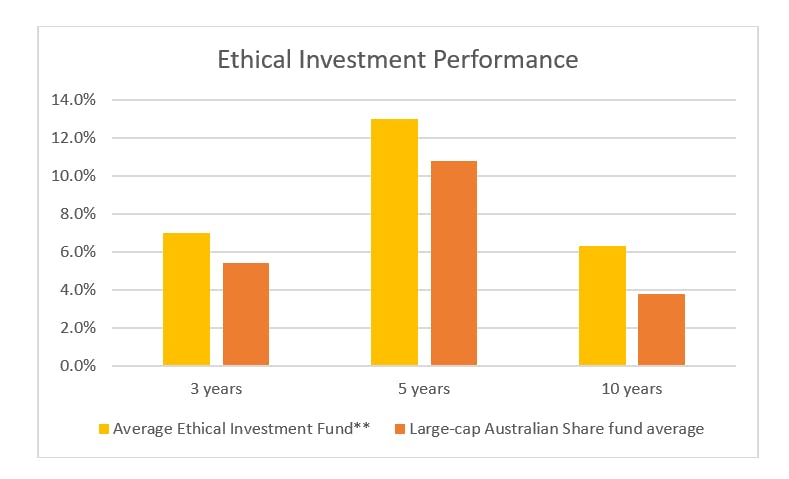 * Past performance is not a reliable guide to future returns.
Your ethical values
Ethical and responsible investment combines sound financial investments with environmental, social, governance or ethical considerations.
There are many different types of ethical investments and everyone has different values.  A good starting point is to list the activities you would like to support or avoid with your investments.  This way you have a starting point to discuss issues with your financial adviser. Here are some areas you may have an opinion on:
Renewable energy
Human rights
Education
Healthcare
Sustainable transport
Safe working conditions
Animal cruelty
Alcohol
Fossil Fuels
Tobacco
Gambling
Pornography
Questions to ask your financial adviser
Product recommendations
Most financial advisers are only able to recommend products on their Approved Product List (APL), which varies from firm to firm and may include in-house products.  This list may have many or very few responsible investment options. There are many different types of responsible investments in different asset classes available in Australia and New Zealand.  
What is your money and your retirement savings currently invested in?
Can they recommend a wide range of ethical and responsible investment products?  
How many of the products they recommend are 'RIAA Certified Responsible Investment' products?  
How many of the products or investment portfolios they recommend take into account or support/avoid areas that are important to you?
Are there incentives for recommending particular products?  Learn more at the Australian Moneysmart financial products and sales incentives page and the New Zealand Financial Markets Authority page.
Certification, training and experience
Are they a certified financial adviser with the Responsible Investment Association Australasia (RIAA)?
Has the adviser completed training in responsible investment?
Does the financial adviser understand the research showing sound financial performance of responsible investments?  Are they aware of the United Nations Principles of Responsible Investment (UNPRI)?
How many clients do they have with responsible investments?  How many years' experience do they have working with clients with responsible investments?
How do they determine which ethical issues are important to you?  A good starting point is providing a questionnaire, so they can understand your perspective on different ethical matters.
How do they keep up to date with available responsible investment products?  Do they complete ongoing Responsible Investment training?
Do they subscribe to external research into ethical issues with investments and/or do they have in-house expertise?
How to find an ethical investment / responsible investment financial adviser
A good place to start is on RIAA's Find a Financial Adviser page where you can search for certified Responsible Investment advisers where 'the Financial Adviser has committed to offering responsible and ethical advice to all their clients, is experienced in offering specialist advice, and has responsible investment products on their approved product list.'
If you are in Australia, check that your adviser is licensed in Australia to provide the type of advice you want in the Moneysmart Financial Adviser Register.  If you are in New Zealand you can check that they are on the List of Authorised Financial Advisers available to download on the Financial Markets Authority website and you can find out more information about the organisation on Financial Service Providers Register (FSPR).
Ask about the fees, both upfront and ongoing.  Ask about their professional qualifications and look for a university degree in a relevant discipline such as finance, economics, accounting or financial planning.  Ask if they a member of professional associations such as CPA Australia, Financial Planning Association (FPA) and the Association of Financial Advisers (AFA). In you are in New Zealand, check if they are a member of a professional association such as the Institute of Financial Advisers (IFA), Professional Advisers Association, SIFA and Triple A Advisers Association.
It is important to read the Financial Services Guide of the adviser you are considering seeing.  More advice on finding a financial adviser is available on the Moneysmart website.  If you are in New Zealand there is advice on choosing a financial adviser on the Financial Markets Authority Website.
Resources for your financial adviser
Responsible Investment Association Australasia: events, conferences and certification.
Principles for Responsible Investment (PRI) Academy: education and training courses on Responsible Investment.
RIAA Responsible Returns: search for certified Responsible Investment products including banking, superannuation, Kiwisaver and investment products.
Disclaimer
Any advice in this publication is of a general nature only and has not been tailored to your personal circumstances. Please seek personal advice prior to acting on this information.
Before making a decision to acquire a financial product, you should obtain and read a Product Disclosure Statement (PDS) relating to that product.